Download the Superior Electric
STABILINE® WHR Series Catalog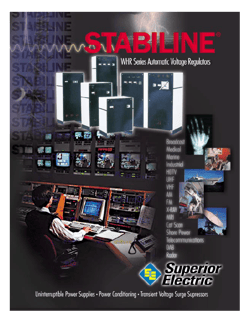 The WHR Series is the most extensive line of
STABILINE® Voltage Regulators Superior Electric has
ever offered. This line of regulators includes units for use
on all AC power systems, up to 660 volt, currently in use
throughout the world. An extensive range of standard
sizes, features and options is included.
Custom molded fasteners are components created for fastening applications in which two components must be attached in a way requiring a non-generic fastening solution that is still durable and cost-effective. Thomson Nyliner custom molded fasteners are well-suited to a number of applications and are already in use as grommets, spacers, hole plugs, leveling feet, custom caps, door glides, idler wheels, friction pads, shelf supports, and wire harnesses. Thomson Nyliner custom molded fasteners are prevalent in many industries including:
Automotive
Office equipment
Marine
Medical
Appliance
- See more at: http://www.danaherspecialtyproducts.com/Thomson-Nyliner/Products-and-Solutions/Custom-Solutions/#sthash.mIN1lX7H.dpuf
it easy to select, specify and apply Thomson Nyliner bearings. Includes descriptions, application examples, dimensional drawings, specifications and test data, and installation and operating information. Also contains section on Nyliner Plus family of bearing made of thermoplastics. - See more at: http://www.danaherspecialtyproducts.com/Thomson-Nyliner/Service-and-Support/Downloadable-Literature/#sthash.MxLdoClo.dpuf